A Good Day to Buy (Compact Disc)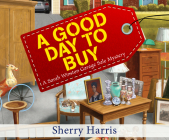 $59.99
Email or call for price.
Description
---
When Sarah Winston's estranged brother Luke shows up on her doorstep, asking her not to tell anyone he's in town--especially her ex, the chief of police--the timing is strange, to say the least. Hours earlier, Sarah's latest garage sale was taped off as a crime scene following the discovery of a murdered Vietnam vet and his gravely injured wife--her clients, the Spencers. All Luke will tell Sarah is that he's undercover, investigating a story. Before she can learn more, he vanishes as suddenly as he appeared. Rummaging through his things for a clue to his whereabouts, Sarah comes upon a list of veterans and realizes that to find her brother, she'll have to figure out who killed Mr. Spencer--and all without telling her ex.