You Had One Job 2020 Day-to-Day Calendar (Calendar)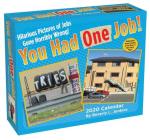 Description
---
You Had One Job! collects the best of the worst workplace bloopers for fans of fails everywhere.

The biggest blunders bring the biggest laughs. That's the idea behind the best-selling You Had One Job! calendar, which features the funniest photos of on-the-job mishaps and miscalculations. Each daily page features an obvious oversight, half-baked flub, or silly slipup paired with the snarkiest of observations from humor writer Beverly L. Jenkins.

As an added bonus, the back of each page includes Daily Extra content such as puzzles, jokes, lists, quotes, activities, tips, and trivia.