2nd Grade Math Flashcards: 240 Flashcards for Building Better Math Skills (Place Value, Comparisons Rounding, Addition & Subtraction, Fractions, Measurement, Time, Money) (Sylvan Math Flashcards) (Cards)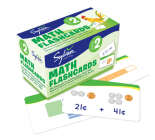 $11.99
Email or call for price.
Description
---
Learn and practice crucial 2nd grade math skills anytime, anywhere with Sylvan Flashcards!

Basic math skills are critical for early success in elementary school and beyond. These flashcards provide plenty of math practice and are designed to help children catch up, keep up, and get ahead--and best of all, to have fun doing it! The box contains 230 flashcards with colorful illustrations, plus 10 blank cards that children can illustrate themselves.

This set will help your child review concepts such as:
Place Value
Number Patterns
Comparing Numbers
Rounding Numbers
Addition & Subtraction
Fractions
Measurement
Time
Money

Plus, you can easily keep track of your child's progress with the color-coded meter on the side of the box. Once your child feels comfortable with a card, flip it upside down, move it to the back of the box behind the divider, and watch your child's mathematics skillset grow!

***** Why Sylvan Products Work *****
 
Sylvan Learning Workbooks won a National Parenting Publications Awards (NAPPA) Honors Award as a top book series for children in the elementary-aged category. NAPPA is the nation's most comprehensive awards program for children's products and parenting resources and has been critically reviewing products since 1990. The Award recognizes Sylvan Learning Workbooks as some of the most innovative and useful products geared to parents.
 
Sylvan's proven system inspires kids to learn and has helped children nationwide catch up, keep up, and get ahead in school. Sylvan has been a trusted partner for parents for thirty years, and has based their supplemental education success on programs developed through a focus on the highest educational standards and detailed research. Sylvan's line of educational products equips families with fun, effective, and grade-appropriate learning tools. Our workbooks and learning kits feature activities, stories, and games to reinforce the skills children need to develop and achieve their academic potential. Students will reap the rewards of improved confidence and a newfound love of learning.
About the Author
---
Sylvan Learning is the premier provider of tutoring services for grades pre-K to 12 in North America. With over 850 locations in the United States and Canada, Sylvan provides individualized tutoring services, both in centers and online, in subjects including math, language arts, writing, study skills, and more.